Driverless Hyundai Ioniq 5!
IONIQ 5 robotaxis on the roads as of 2023!
The new company Motional – a joint venture from Hyundai and Aptiv – has just announced that their latest driverless IONIQ 5 based robotaxi will be available from 2023!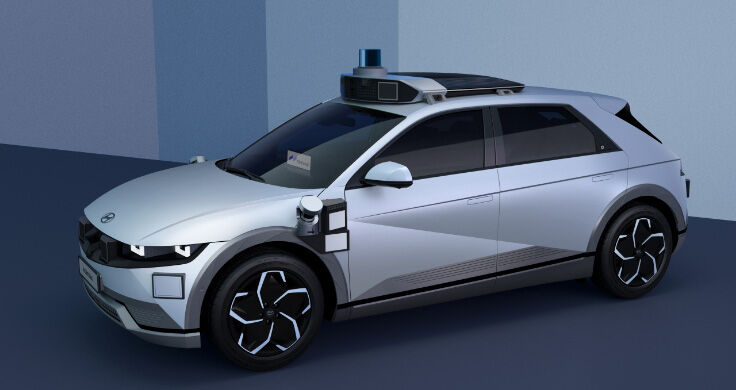 Based on the all-electric Hyundai IONIQ 5, the IONIQ 5 Robotaxi complies with SAE Level 4 automation, meaning the autonomous vehicle can safely drive without a driver. The emission-free robotaxi represents the convergence of the two most transformative technologies in mobility: electrification and autonomous driving. The fusion of the two has the potential to make road transport smarter, safer and more sustainable.
The IONIQ 5 robotaxi is also Motional's first commercial vehicle and represents an important milestone on the company's roadmap. Motional will begin transporting passengers with the IONIQ 5 Robotaxi in 2023 as part of a partnership with Lyft.
The IONIQ 5 Robotaxi features a technology-driven design that highlights the innovation behind autonomous driving. The vehicle's sensor technology is clearly visible from the outside. This makes it easy to distinguish the Robotaxi from conventional human-driven vehicles. The Robotaxi is equipped with over 30 sensors – a combination of cameras, radar and lidar – that provide powerful 360-degree monitoring, high-resolution images and long-distance object detection for safe autonomous operation in a variety of driving situations. The Robotaxi is equipped with Motional's proven autonomous driving technology. It includes advanced machine learning systems that have been taught based on real-world data collected over several decades, enabling the vehicle to safely handle challenging and complex driving situations.
Based on the Electric Global Modular Platform (E-GMP), a dedicated platform for battery electric vehicles (BEVs) from Hyundai Motor Group, the interior of the IONIQ 5 Robotaxi offers passengers plenty of comfortable space to work, relax or talk while driving. In addition, the interior impresses with a number of driver-oriented interfaces. They allow passengers to interact intuitively with the vehicle during the journey. For example, they can instruct the robot taxi to make a stop. The resulting driving experience sets new standards for driverless ride-hailing.
Designed from the outset as a driverless vehicle, the IONIQ 5 robotaxi was developed as part of a collaboration between Motional and Hyundai Motor Group. Both companies worked hand in hand throughout the development phase and contributed their respective expertise: Motional in autonomous driving and Hyundai in R&D and global vehicle production.
The result: a seamless integration of the vehicle's "brain" and body. The hardware and autonomy components combine to provide advanced, safe and smooth autonomous operation. The IONIQ 5 Robotaxi is based on Hyundai Motor Group's E-GMP, which enables ultra-fast charging and long-range driving, ensuring maximum utilisation of Motional's fleet of robotaxis. The IONIQ 5 Robotaxi also features advanced Hyundai Motor Group safety and reliability features and is globally scalable. This makes the robotaxi uniquely suited for cost-effective commercialisation.
Pictures of the Motional robotaxi by Hyundai and Aptiv